Circuit Breakers Are Safety Devices.
Circuit breakers prevent overheating and damage to wires and other electrical equipment. Circuit breakers are intended to prevent electrical fires. Improperly functioning or improperly used electrical equipment can start fires.
Circuit breakers "trip" and shut off the power automatically in response to dangerous conditions affecting your wiring system.
Correct operation and testing should be verified when in doubt to ensure the electrical integrity and safety of your home or business.
Oakland East Bay Area Electrician
Lighting and Power - Install Maintain Repair
Small Jobs OK - 24 Hour Oakland Electricians
http://myOaklandElectrician.com
---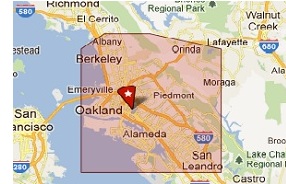 Journeyman electrician serving the Oakland, CA East Bay area since 1980.

For home or business, new work installations, troubleshooting, maintenance, repair and upgrades.

Pay by cash, check, credit card: we accept VISA Mastercard PayPal. Available daytime and after hours, nights, weekends, holidays, and open for 24 hour emergency services.

Oakland Electrician | Electricians in Oakland CA

Electrical Service area includes: Oakland East Bay Area, Richmond, Albany, El Cerrito, Berkeley, Emeryville, Oakland, Orinda, Piedmont, Alameda, San Leandro, San Lorenzo, Hayward and surrounding cities.

Circuit Breaker Replacement - Circuit Breaker Testing - my Oakland Electrician

Circuit Breakers Shut Off the Power to Prevent Dangerous Conditions.

Overloaded electrical circuits, shorted circuits, damaged electrical wiring, and damaged electrical equipment plugged in or turned on and running can cause a circuit breaker to trip and shut off the power.

Circuit breakers can and do fail. Usually circuit breakers trip and shut off the power as they should but sometimes they trip when they should not be tripping resulting in nuisance tripping.

Conversely, circuit breakers sometimes fail to trip when they should be tripping which results in a seriously dangerous situation requiring immediate attention.

Circuit breakers can be tested to make sure they are working properly and they can be replaced if faulty.

Repeated tripping by a circuit breaker can cause all sorts of damage. If a circuit breaker is tripping repeatedly then it needs to be checked out, tested and replaced if necessary.

There are many different types of circuit breakers and they need to be selected and installed correctly to ensure reliability and safety of your electrical system.

24 Hour Berkeley Electricians / 24 Hour Oakland Electricians / Electric Companies Oakland / Electrical Home Repairs / Find Oakland Electricians / Local Berkeley Electricians / Local Oakland Electricians / Security Lighting Outdoor Lighting Installation /