Required Electrical Shock Protection
GFI or GFCI outlets are safety devices that provide electric shock protection to personel using this type of electrical outlet.
GFCI is an abbreviation of "Ground Fault Circuit Interrupter". The device is sometimes referred to as "GFI" whereas the longer term is actually correct.
Oakland East Bay Area Electrician
Lighting and Power - Install Maintain Repair
Small Jobs OK - 24 Hour Oakland Electricians
http://myOaklandElectrician.com
---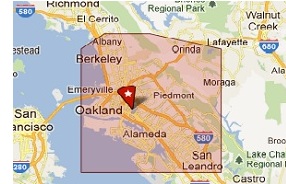 Journeyman electrician serving the Oakland, CA East Bay area since 1980.

For home or business, new work installations, troubleshooting, maintenance, repair and upgrades.

Pay by cash, check, credit card: we accept VISA Mastercard PayPal. Available daytime and after hours, nights, weekends, holidays, and open for 24 hour emergency services.

Oakland Electrician | Electricians in Oakland CA

Electrical Service area includes: Oakland East Bay Area, Richmond, Albany, El Cerrito, Berkeley, Emeryville, Oakland, Orinda, Piedmont, Alameda, San Leandro, San Lorenzo, Hayward and surrounding cities.

GFI Outlet GFCI Outlets - Ground Fault Circuit Interrupters - my Oakland Electrician

What does a GFCI outlet do and how does it work?

A GFCI outlet or a GFCI circuit breaker interrupts the flow of electricity, like an automatic switch that turns off the power if it detects electricity flowing along the wrong path, which is the condition that occurs when someone gets a shock from an appliance or device plugged into an electrical wall outlet.

Actually without shock protection, you can get shocked from any piece of electrical equipment, particularly faulty electrical equipment, or electrical equipment used in damp or wet locations.

Why Do I Need Shock Protection?

GFCI, ground fault circuit interrupters are required where you are likely to be wet or in contact with water, outdoors, in garages, in basements, in kitchens and bathrooms etc.

These are places where you could possibly be wet or in contact with the earth, or ground while you've got something plugged in and running. These are the circumstances where you are most likely to get a shock, therefore the requirement that protection against electric shock is necessary.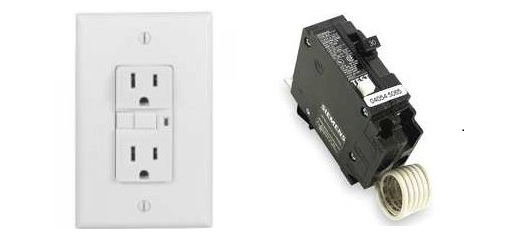 GFCI receptacle outlet (left# and GFCI circuit breaker #right). Either device provides shock protection by the same manner.
24 Hour Berkeley Electricians / 24 Hour Oakland Electricians / Electric Companies Oakland / Electrical Home Repairs / Find Oakland Electricians / Local Berkeley Electricians / Local Oakland Electricians / Security Lighting Outdoor Lighting Installation /